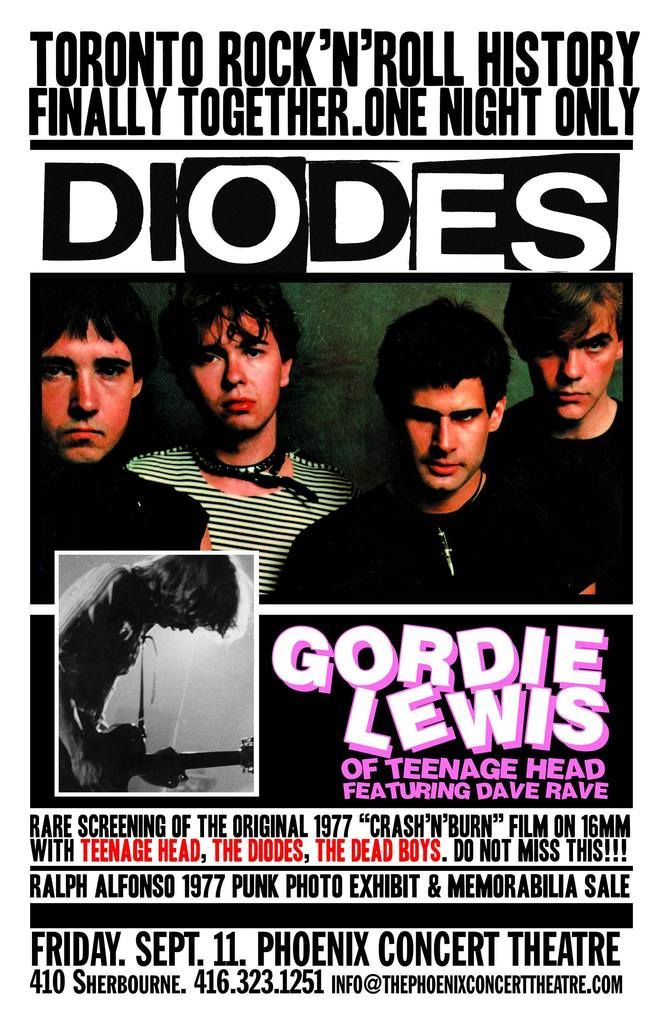 Toronto Rock'n'Roll History
One Night Only! September 11 2015
The Diodes (original 1977 line-up plus John Andrew on drums ex. Kingmaker)
with support from special guest
Gordie Lewis (of Teenage Head)
featuring Dave Rave (The Shakers, Teenage Head)
PLUS:
A rare screening of the 1977 film, "Crash'n'Burn"
featuring The Diodes, Teenage Head, The Dead Boys and The Boyfriends.
Filme in its entirety at the legendary Crash'n'Burn club,
Toronto, during the punk summer of 1977 by indie film-maker Ross McLaren. This film is not available commercially and can only be screened in its original 16mm format.
Diodes and Crash'n'Burn club manager Ralph Alfonso will
introduce the film and give a short overview of that era in
Toronto rock history.
In addition, there will be an exhibition and sale of 1977 punk photography by Ralph Alfonso (Ramones, Diodes, Teenage Head, Patti Smith, Viletones, Damned, Stranglers, Blondie, Talking Heads, etc).
Memorabilia, vinyl, cds, shirts, books and DVDs will also be available (including The Last Pogo Jumps Again DVD).
$15 in advance $20 at the door
We are proud to announce that CIUT 89.5FM is a co-presenter of our Toronto show at the Phoenix Concert Theatre!! Listen to CIUT for tickets and prize giveaways.